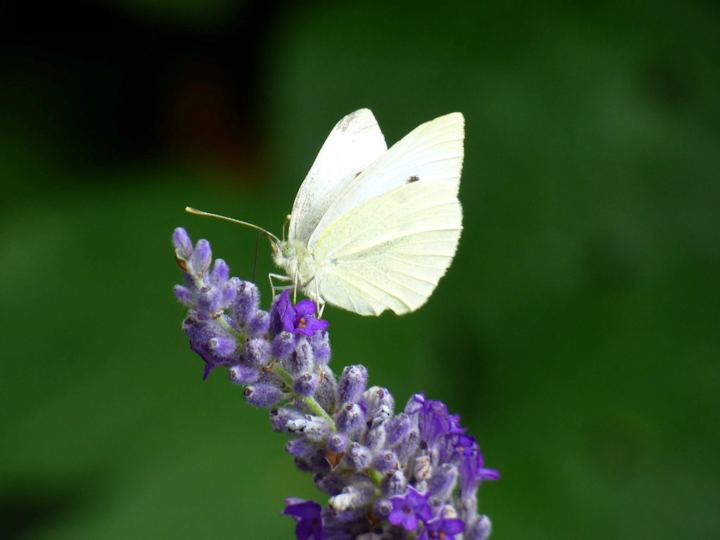 I was reminded by Facebook of a nature challenge from four years ago, before we moved to Norfolk, to post a new photo each day for seven days. For me each one had a memory. Here's one of the cabbage white I chased all around the lavender in our old garden with my zoom lens, which refused to focus on so small and elusive a target. Still I caught it finally with its snout in the pie, so to speak. It made me wonder about the pictures we carry within us, the ones that have vivid scents, coloured tastes, impossible emotional angles and draw us nearer to someone who cares for us. Like a butterfly we are fearfully and wonderfully made.

It reminded me too of the kind of kingdom that butterflies inhabit, and which as a follower of Jesus we might aspire to. I wrote this poem in a garden on Crete watching such a butterfly .

Your love is the lightest of cooling breezes.
Your touch a butterfly against my palms,
A place of rest that calms
The spirit as it waits in anticipation
For the triangle of wings
To open and bless the day with a coruscation
Of colour – a glimpse of heaven.
Before you flutter away
Untameable, unfathomable, unbidden,
A spirit riding on gossamer threads
Draping the day with invisible silken webs.

It is easy to miss,
To tear through the strands of thought
And stumble into distraction,
To loose this thread of reflection,
To see the movements as random currents
That skitter through the cosmos.

But you come back to drink nectar
At the same place again,
Your beauty never lost.
A transient reminder of eternity.
Seeking at sweetness,
Offering beauty to those with eyes,
Rendering silence in the beat of wings
To the beat of my heart.
Joined in life as one.