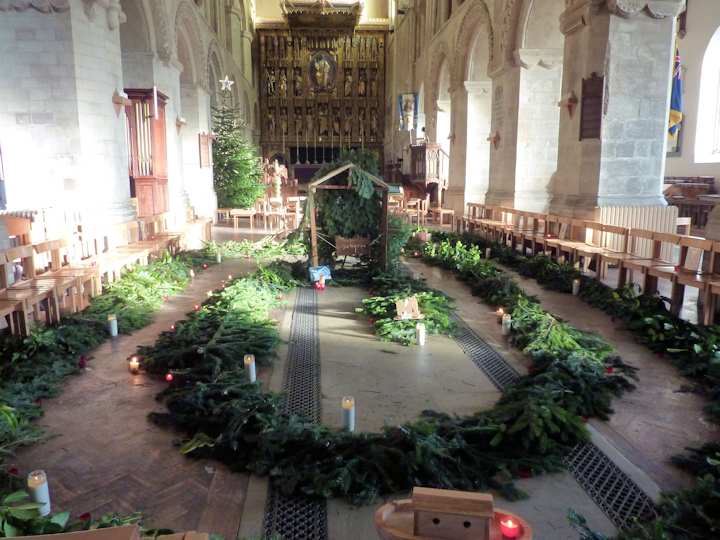 There is an ageless quality to stones carved, carried carefully, placed to heights that inspired Babel. But here the many voices that have echoed through centuries of spiritual peace and outward battles, hard cries against sin and establishment, soft prayers of supplication; here the voices of praise for a loving God have somehow become embedded in those stones, heard by a roof of angels, answered by the voice of God.
When all voices have ceased there is a stillness at Wymondham Abbey that is both deep and painful. Deep in spirit, but aching in expectancy of new life, calling to new souls seeking God. "Come praise within you and out aloud – whether you are heavenly choir or in the ecstasy of forgiveness and the mercy of a risen Saviour."
It is a good place to come, to say a prayer, to offer praise, to centre your spirit within the arms of the Trinity.  Here candles are lit, prayers said, offerings made. It is a place for the people, the monks long demolished for their failings to keep the faith as they were taught, their false dreams torn down and scattered afar while the true God walks majestically on with his true people, the ones who bowed low and humbled themselves. All that remains is the people's church and reminders of a bygone era of colour, pomp, pride and extravagant payment for release from a self-imposed purgatory. The colour, now drained forever from the stone and wood, bubbles up in those who enter in.  "There is such a strong sense of peace here!"
Peace, it is the Christmas message, it spirals a labyrinth around us. Not a maze of choices, but a single path that will, if we let it, lead us to the heart of Christmas, the Saviour to be cruelly killed in our name, crying as a baby for his mother's milk: soft and vulnerable, but majestic with portent. Tiny fingers, new senses, imagined, like us, by God. A peace like no other because that peace is a person and a God.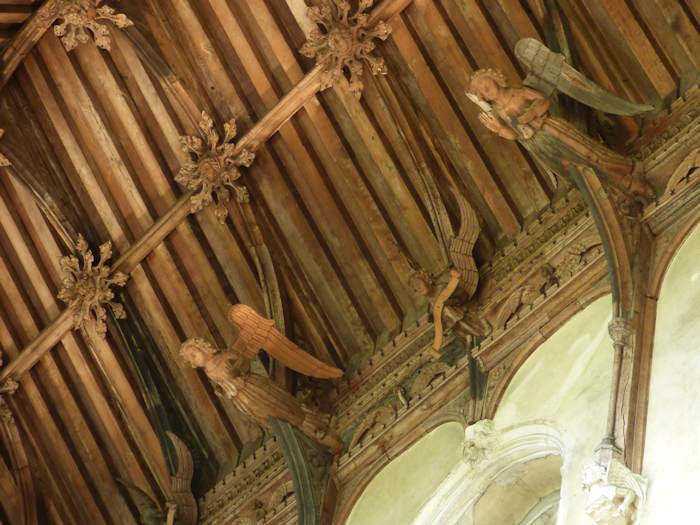 And the worship! Oh for those wooden angels to come down again in fearful chorus and light our way through the darkness of the season, to shed light on the one who is light and still alive after all our attempts to destroy him, his faith and his followers.  Oh to be ignored, shunned, mocked, ridiculed for deigning to offer grace, compassion, mercy and forgiveness when arrogance and hatred continue to pound and destroy all that seeks to be good, and the false good claims its humanity is perfect, lacking nothing, not needing a God or governor to manage this world and its resources. Blindness and darkness hover outside the walls and the spiral of hope.
Come, not because we are worthy, not because we are good, but because we recognise the need, the failings, the weakness to fight that which is within us; the haunting of ghosts from the past, the future and the hardest ghost for some to endure, the present.
A little faith, a stirring of hope, a touch of love and peace calls us to that centre to meet with the one who would be our centre, our pivot against the weight of darkness, the fulcrum that moves the mountain and the heart.