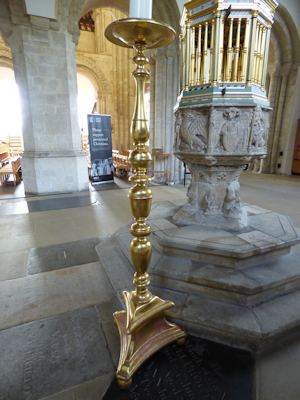 Designed by Sir Ninian Comper the stand for the Pashal Candle. The Paschal candle when lit at Easter represents the Resurrection of Christ.
You may like to meditate on the risen Jesus and His presence with us by the Holy Spirit. St Paul in his letter to the Colossians considers the mystery of Jesus, his death and resurrection for everyone and as he writes in Chapter 1: 26 the mystery that has been kept hidden for ages and generations, but is now disclosed to the Lord's people. 27 To them God has chosen to make known among the Gentiles the glorious riches of this mystery, which is Christ in you, the hope of glory. (NIVUK)
As the Paschal Candle makes its journey towards the Ressurection we remember that there is a journey leading on from there which we can all make leading from the foot of the cross to our own resrurection life and beyond.
<- Go Back (to the North Aisle)