William d'Aubigny, William d'Albini is his latin name, was the second son of a modestly ranked noble family in Normandy. Seeking to advance himself, he came to England and showing loyalty to the King William Rufus, son of William the Conqueror, became a favourite of the King. He was granted lordship of Rising, included custom dues and toll from the port of Lynn. With Henry I he was appointed Pincerna Regis (Butler to the King) – a sign of high regard in court. He was granted further estates: Buckenham, where he built the castle, Kenninghall, Fersfield and Wymondham.

He had a high status marriage to Maud Bigod, daughter of Roger Bigod who built Framlingham Castle, and in 1107 as a symbol of piety (and wealth!) he asked the Benedictine monks to build the priory. His uncle was Abbot at St Alban's, so Wymondham Priory became a dependency of St Alban's. The first 10 monks came and the Monk's chapel was completed by 1130, the people's church by 1170.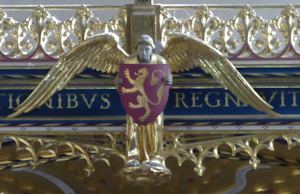 Read more about the d'Aubigny family when you reach the ruined tower.